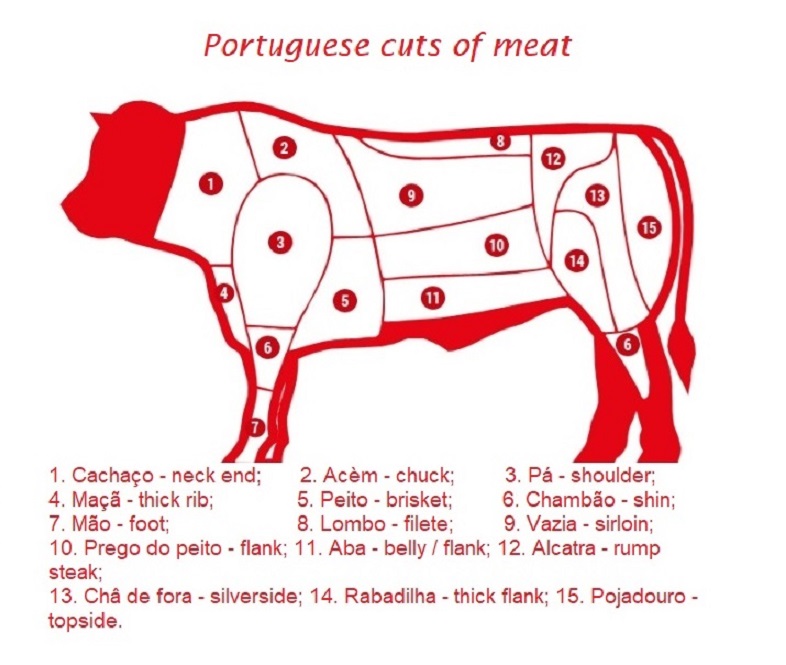 Over the years I have been teaching Portuguese I have often heard people asking about various meat cuts, so I thought I would compile a list of the meat cuts in Portuguese, their translation and their uses. Please not that cuts can vary from region to region. Also that American cuts are different to British.
CACHAÇO – neck end
Braised, stewed, fried or boiled
Off the bone neck end can be used for hamburgers and as minced meat.
It is especially good for stews and broths. A 2nd category meat that gives any dish a gelatinous finish and gives great consistency to sauces.
ACÉM – chuck
Braised, roasted, fried or grilled
The chuck can be divided into three different pieces; comprido, redondo e coberta.
The first two pieces are of prime quality. The last, although not as tender can be tasty grilled or barbecued, also good for sauces. The steaks are very tender, succulent and tasty, even though they have a larger fat content
PÁ – shoulder
Braised, roasted, fried or grilled
1st category, very tender and after trimming makes excellent steaks. Best way to cook is to stir fry and grill.
MAÇÃ DO PEITO – thick rib
Braised, boiled or stewed
Very tasty, and especially indicated for stews, puddings, mince and broths.
It is a 1st category meat.
PEITO – Brisket
Stewed, braised or roasted
This cut is divided into 2 The thick rib and brisket. 2nd category cut of meat used for braising and for stews. It can also be roasted in the oven, boned and rolled.
CHAMBÃO – shin
Braised, boiled or stewed
A very gelatinous cut and especially good for broths, consommés, gellies, boiled
and minced. Very tasty, but needs to be cooked a long time. Great for stews.
MÃO – foot
Stewed and boiled.
Has a soft and gelatinous consistency.
It is the best meat to braise with pasta and great for stews.
LOMBO – filet
Grilled or BBQ
A special cut and perfect for steaks and BBQ.
The most tender, succulent and tasty piece of beef. From the centre
of the filet they take the finest quality cuts such as, chateau briand, Filet-mignon and tornedós.
VAZIA – sirloin
Grilled, BBQ or fried
Sirloin steaks are tender and should be heavy and thickly cut, with hardly any fat. Can be grilled, BBQ, fried and stuffed.
PREGO DO PEITO – flank
Stew or boil
3rd category meat for stews and boiling
ABA  – belly / flank
Boiled or braised
Best boiled or braised
ALCATRA – rump
Grilled, roasted, fried, cooked or braised This is considered a 1st category meat, normally used in the preparation of stews, roasts, steaks, braised dishes, and mincemeat.13 CHÃ DE FORA – silverside
Stewed, braised or roastedThis is connected to the rump, flank and the shoulder.
This is quite a dry piece of meat and should be cooked with lard.
Especially good for stewing.
RABADILHA – thick flank
Grilled, roasted, stewed or boiled.Great for steaks, braising and stewing. Very good boiled.
POJADOURO – topside
Grilled, braised or stewedThe inside thigh of the bull, 1st category meat.
Very succulent, great for steaks with sauce, grilled, braised or stewed.

Do you want to be able to have a banter with the butcher? Click on this link to get you started!